Diabolique Ball tickets on sale!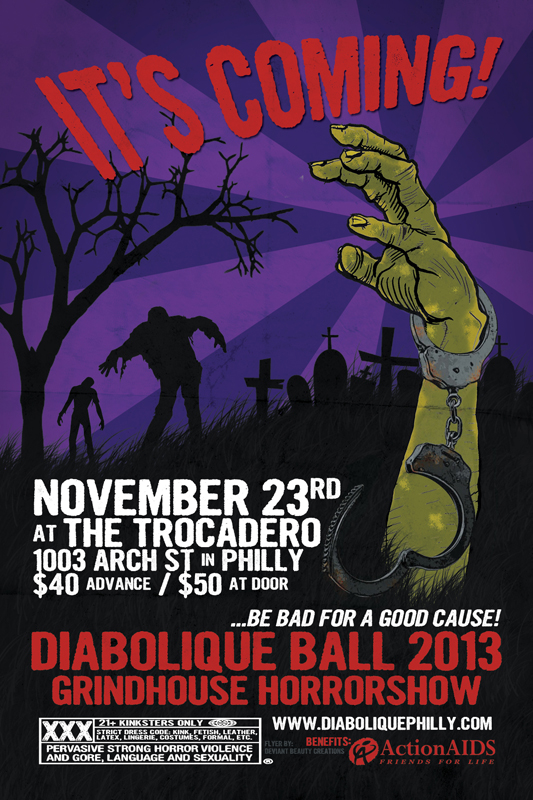 Diabolique Ball 2013: Grindhouse Horrorshow
Event Date: Saturday, November 23rd
Event Time: 9pm – 2am
Event Venue: The Trocadero Theatre 1003 Arch Street Philadelphia
Get your Diabolique tickets at Delicious Boutique now!
Grindhouse Horrorshow is the them for this year's Diabolique Fetish Masquerade Ball, which will take place this November. Advance tickets, which benefit local charity Action AIDS, go on sale at the Trocadero box office and online at www.DiaboliquePhilly.com starting Friday, September 20 for $41. Online ticket sales incur an additional charge, so we recommend stopping by Delicious Boutique to pick up your ticket while shopping for your outfit for the Ball!
Diabolique Ball is an annual fundraising event will happen at the famous Trocadero Theatre for the first time in its 16 years of fundraising history.
The costume-mandatory fetish charity ball will feature kinky carnival-style charity play stations and full-frontal fetishistic horror movie footage. Additionally guests can enjoy local, national and international performers, fashion shows, horror-themed makeup artistry, professional photographic portraits and other themed activities which have made Diabolique Ball a destination for adventurers for well over a decade.
Each year, hundreds of guests come out to "Be Bad for a Good Cause." Diabolique Ball raises thousands of dollars annually for various charities that provide vital services to Philadelphia's diverse communities.
Tickets are on sale NOW and can be purchased at Delicious Boutique, Passional Boutique or the Trocadero box office. Advance tickets are $41. (which includes a TicketFly $1 charge.) Ticket prices increase to $51. on Nov. 21
Strict fetish, Black Tie Formal, Bondage and Theme Dress codes are enforced for entrance to event, for more details please review www.diaboliquephilly.com
For information about the 501(c)(3) Diabolique Foundation, and its fundraising history see http://www.diaboliquephilly.com/about/diaboliquefoundation/