Marquis Fashions hit the shelves at Delicious!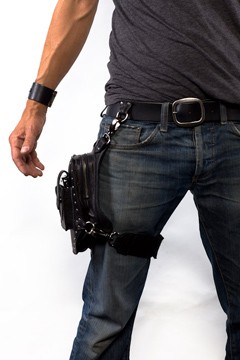 Marquis Fashion was created by Costume & Fashion Designer (and high-class gypsy) Kat Marquet.  The young designer spent years creating elaborate period costumes for renegade actors in Los Angeles, outfitting circus freaks in New York, and popping into the opera in London. Kat is inspired by leather, military structure, theatrical flair, and subculture style …she is  armed with classical design training, and is driven by a need for movement and durability.  The end result, design that has been described by the LA Weekly as an "architectural marvel."
Marquet founded Marquis Fashion in March of 2010.  It was spawned out of frustration with the lack of affordable and durable burner-themed fashion that could transcend underground style and fit into the mainstream world. Kat became "dedicated to the endless struggle of creating fashion that is eccentric yet durable and utilitarian." The dedication continues…. Kat still accepts custom costume projects, and designs handbags freelance while working on expanding her company.
Marquis Fashion's signature bags have just hit the shelves on the east coast at Delicious Boutique.  The first offerings to arrive are the classic Valkyrie Bag (shown to the right) and the Drop Holster (shown below.)
Marquet explains that "the Valkyrie Bag was inspired by the warrior women of Norse mythology for which it was named."  She describes it as a smaller, sleeker version of the basic Drop Holster bag.  Great for the guy or gal that wants to carry just a little more then the keys/wallet/phone hands free, and also look pretty bad ass in the process. It is made of high quality buttery leather which gets better over time, and was designed with the active person in mind. Marquet assures that, "you are free to dance, swing, ride on some winged horses through the night sky….. NOTHING will fall out!"
"This little baby can carry quite a lot," Kat boasts.  "For me personally, my record was my blackberry, massive key ring, money clip, business card holder, 2 pens, lipstick, eyeliner, moleskin notebook and a flask"
Equally as functional, the Drop Holster bag is made for the true adventurer who has the tendency to get up and climb a tree or jump a fence at a moments notice. Aside from just looking cool, it is extremely functional, comfortable and utilitarian. Made of the same soft buttery leather that gets better over time, the 3 pockets are enough to carry your basic, keys / wallet / phone and so much more, while still giving you the hands free ability to do cartwheels and have nothing move or fall out.
Both bags tout a detachable thigh strap which is made of 2″ elastic and velcro.  Designed for comfort, adjustability, and to keep your belongings snug against your thigh.
Form and function meet in these fantastic utilitarian bags.. proudly hand made right here in the United States!
View the available bags by Marquis Fashions here!
burner fashion
,
burning man
,
delicious boutique
,
holster bag
,
tribal fashion